Table of Contents
If you're planning to go hunting soon, you have to get a hog-skinning knife. They're durable and made for outdoor activities. Don't know what hog knife to pick? I listed below the top 3 hog knife options in the market right now and some added information about these knives in general.
Why Get a Hog Skinning Knife
There are a lot of reasons why people use hog-skinning knives when they go hunting. Here are the reasons why:
Blade Design: The blade is specifically designed for skinning, thus optimizing skinning tasks. The blade is curved with a narrow tip, which gives precision and better control when handling.
Edge and Sharpness Retention: Hog knives are made from durable steel that has a lasting sharpness and edginess.
Ergonomic Grip: The handle of hog knives have a special texture to reduce slippage. It's also ergonomically designed to reduce fatigue from long use.
Speed and Efficiency: Hog knives are designed to speed up the process of skinning. This way, you're able to save your effort and time.
Reduced Waste and Safety: The design of hog knives also reduces the chances of accidental injuries, thus keeping you safe.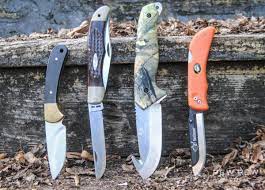 Applications and Techniques Hog Skinning Knife
The hog skinning knife finds its prime application in the process of field dressing game animals, particularly hogs. The steps involved in this process require a combination of skill, precision, and the right tools:
Initial Incision: Using the hog skinning knife, make a shallow incision along the belly, starting from the chest and extending towards the hind legs. This incision allows access to the underlying tissues.
Lifting the Skin: Gradually work the blade beneath the skin, separating it from the underlying fat and muscle. The curvature of the blade aids in following the natural contours of the animal, minimizing waste.
Controlled Slicing: With the skin loosened, proceed to make controlled slicing motions, gently peeling the skin away from the meat. This step requires finesse and precision to avoid damaging the meat or puncturing vital organs.
Minimizing Waste: As the skin is removed, ensure that as much fat as possible remains attached to the skin. This preserves the valuable fat for rendering or culinary purposes.
Final Touches: Once the skin is removed, inspect the carcass for any remaining pieces of skin or fat. Trim these off carefully, leaving behind clean, usable meat.
What Is A Caping Knife And What Is It Used For?
The Art of Mastery Hog Skinning Knife
Mastering the use of a hog skinning knife is more than a mechanical process; it's an art form that requires practice, patience, and a deep understanding of anatomy. Every successful use of the knife involves a delicate balance between technique and intuition, as the skinner must adapt to the unique contours and conditions of each animal.
Practice Precision: Regular practice helps refine your technique, allowing you to predict the depth and angle of your cuts. Familiarity with your knife's characteristics is essential for achieving consistent results.
Mindful Movement: Approach each cut with a deliberate and controlled motion. Rushing can lead to haphazard cuts and a compromised end product.
Adaptability: Every hog is different, and the art of hog skinning involves adapting your technique to the size, shape, and condition of each animal.
Knife Care: A well-maintained knife is a skinner's best friend. Regularly sharpen the blade and keep the handle clean and dry to ensure a secure grip.
Top 3 Best Hog Skinning Knives on the Market Right Now
Here are the top 3 best hog skinning knives that you can check out:
If you want a versatile blade that's an overall great pick for both beginners and expert hunters, then the Benchmade skinning knife is excellent for skinning both big and small game. It's an all-around knife that is durable, sharp, and even comes with an adjustable hook.
Specs
Blade Length: 3.50"
Blade Shape: Drop point
Blade Thickness: 0.124"
Handle Material: Stabilized wood
Weight: 4.76 oz
Pros
Long-lasting and rust-resistant blade
Portable folding blade
Sharp edge for smooth skinning
Cons
The handle can be difficult to clean due to the grooves
If you're still starting and are overwhelmed with the choices, you can invest in the Ranger skinner knife. It's one of the most affordable options, but the quality is not compromised, making it a top quality pick.
Specs
Blade Length: 3 1/8"
Blade Shape: Skinner
Blade Thickness: 0.120"
Handle Material: Crelicam Ebony
Weight: 5.2 oz
Pros
Superior blade that's resilient and durable
Sleek satin finish steel
Curved and narrow tip blade
Cons
If you want an efficient knife that's straightforward, this is your pick. It's portable, durable, and super sharp. It also comes with an additional gutting knife, making your hunting activities more efficient and convenient.
Specs
Skinning Knife
Blade Length: 3.25"
Blade Shape: Fine Edge
Handle Material: G10
Weight: 4.9 oz
Gutting Knife
Blade Length: 3.75"
Blade Shape: Hook
Handle Material: G10
Weight: 4.9 oz
Pros
Slim and compact leather sheath
Textured grip
Comes with a gutting knife and carbide sharpener
Cons
Can be heavy to carry, especially when carrying it for long hours
These are the top 3 hog hunting knives that you can check out right now. When going hunting, it's important to bring the right tools for a successful trip. With these knives to back you up, you're surely going to have a seamless time outdoors.
Discover irresistible prices that will leave you amazed