Table of Contents
When it comes to cutting tools, the material of the blade plays a critical role in determining its performance and durability. Titanium blades have emerged as a game-changer in the world of cutting implements, offering unique advantages that set them apart from traditional blade materials. Titanium is a popular material for making knives due to its strength, durability, and resistance to corrosion.
In this article, we will delve into the realm of titanium blades, uncovering their unique properties and the advantages they offer over traditional blade materials. Whether you are a professional in a specific industry or an enthusiast seeking the finest cutting experience, understanding the power of titanium blades is essential.
Applications of Titanium Blades
Outdoor Enthusiasts
For outdoor enthusiasts, titanium blades offer a range of benefits in various activities such as camping, survival, and other outdoor pursuits. Titanium blades are lightweight, making them convenient to carry during outdoor adventures. Furthermore, the corrosion resistance of titanium blades makes them highly suitable for use in outdoor environments where exposure to moisture and harsh conditions is common. Outdoor enthusiasts can rely on this blades for their cutting needs, ensuring durability and reliability in rugged outdoor settings.
The Best Pocket Knives For Everyday Carry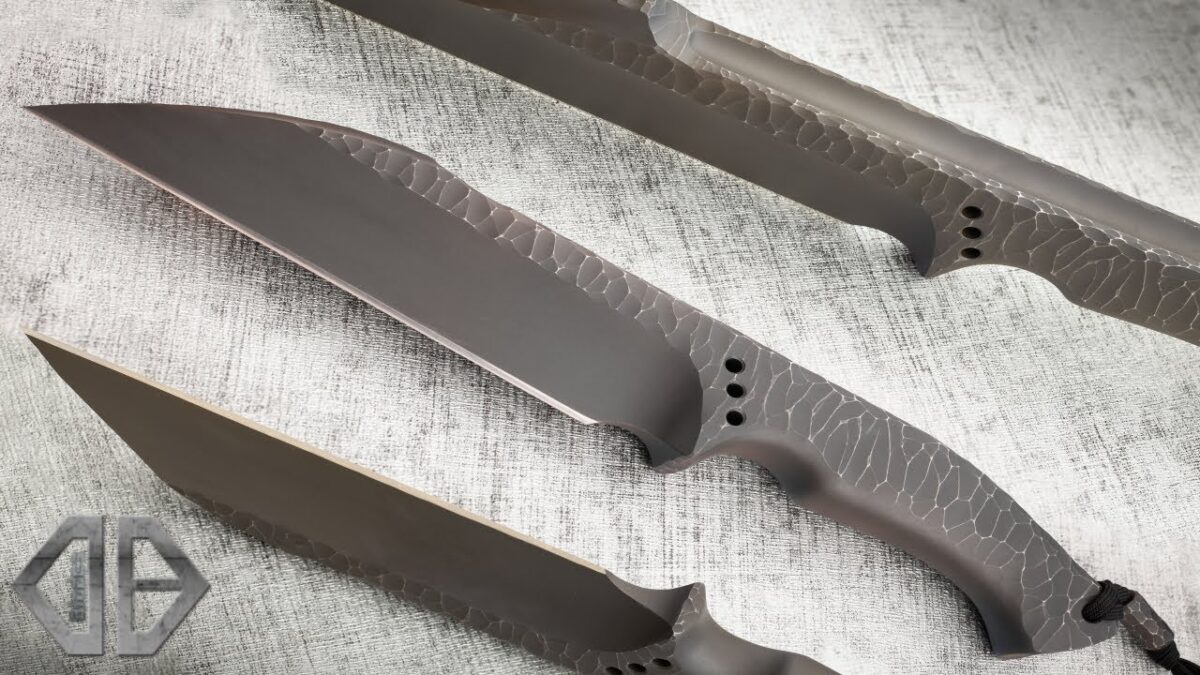 Culinary Field
Titanium blades have also found their way into the culinary field, both in professional kitchens and home cooking. Chefs and cooks appreciate the advantages offered by titanium blades. From slicing through various ingredients to intricate cuts and filleting, titanium blades provide excellent cutting performance. Additionally, the lightweight nature of titanium blades reduces hand fatigue during extended cooking sessions, allowing for more comfortable and enjoyable food preparation. Overall, titanium blades bring a combination of performance, durability, and convenience to the culinary field.
Industrial Sector
Titanium blades find extensive use in various industries, including aerospace, automotive, and manufacturing. In the aerospace industry, this blades are utilized in cutting composite materials, such as carbon fiber-reinforced polymers (CFRP), which are commonly used in aircraft construction.The high-performance characteristics of titanium blades contribute to enhanced productivity and precision. Moreover, in the manufacturing sector, titanium blades are utilized in cutting operations involving diverse materials like metals, plastics, and composites. The versatility and reliability of titanium blades make them invaluable tools for manufacturers seeking efficient and high-quality cutting solutions.
Pros and Cons
Pros of Titanium Blades On Knives
Exceptional Strength-to-Weight Ratio: Titanium is renowned for its remarkable strength-to-weight ratio, making titanium blades incredibly strong while being lightweight. This combination of strength and low weight provides users with a knife that is durable, easy to handle, and less fatiguing during extended use.
Corrosion Resistance: Titanium has a natural resistance to corrosion, making titanium blades highly resistant to rust and corrosion. This feature ensures that the blade remains in good condition, even in humid or corrosive environments, and requires less maintenance compared to blades made from other materials.
Non-Magnetic and Non-Allergenic: Titanium is non-magnetic, making titanium blades ideal for use in environments where magnetic interference is a concern. Additionally, titanium is non-allergenic, making it a suitable choice for individuals with metal allergies or sensitivities.
Sharper Edge Retention: Titanium blades tend to have excellent edge retention, meaning they retain their sharpness for longer periods before requiring resharpening. This characteristic allows for extended use without frequent maintenance, making titanium blades convenient for those who value sharpness and performance.
Cons of Titanium Blades on Knives
Difficult to Sharpen: Titanium is a hard material, which can make sharpening titanium blades more challenging compared to softer blade materials. Specialized sharpening techniques and tools may be required to achieve and maintain a sharp edge on a titanium blade.
Limited Blade Designs: Titanium blades are relatively less common compared to blades made from other materials. As a result, the variety of blade designs available in titanium may be more limited, limiting options for those seeking specific blade shapes or profiles.
Higher Cost: Titanium is generally more expensive than other blade materials such as stainless steel. The increased cost is often reflected in the price of knives with titanium blades. However, it's worth noting that the long-term durability and performance of titanium blades may justify the higher upfront cost for some individuals.
Choosing the Right Titanium Blade
Factors to Consider
Blade Design: The design of the blade is crucial for different cutting tasks. Consider factors such as blade shape (e.g., drop point, tanto, or clip point), blade length, and thickness. Each design has its advantages and is suited to specific cutting applications. Assess your intended use and select a blade design that aligns with your requirements.
Handle Ergonomics: The handle of a titanium blade is equally important for comfort and control during use. Look for a handle design that offers a secure and ergonomic grip. Factors to consider include handle shape, texture, and overall size. A comfortable handle ensures a firm grip, reducing the risk of accidents and enhancing cutting precision.
Intended Use: Consider the specific tasks and environments in which you plan to use the titanium blade. Are you using it for general utility purposes, survival situations, or specialized activities? Understanding the intended use will help you determine the necessary blade characteristics such as edge sharpness, blade thickness, and overall durability.
Maintenance Requirements: Consider the maintenance needs of the titanium blade. Some blades may require regular sharpening or specialized care to maintain their performance. Assess the level of maintenance you're comfortable with and choose a titanium blade that suits your maintenance preferences.
Reputable Brands
Benchmade: Benchmade is recognized for their precision-crafted titanium blades that offer exceptional cutting performance and durability. Their attention to detail and commitment to craftsmanship make them a popular choice among professionals and enthusiasts.
Spyderco: Spyderco offers a range of titanium blades known for their innovative designs and high-quality materials. They prioritize functionality and user experience, ensuring their blades meet the demands of various cutting tasks.
Zero Tolerance: Zero Tolerance manufactures robust titanium blades that are built for heavy-duty use. Their blades often feature premium materials, advanced designs, and meticulous craftsmanship, making them a preferred choice for professionals seeking reliability and toughness.
Care and Maintenance
Cleaning and Storage
Proper cleaning and storage are crucial for maintaining the performance and longevity of your titanium blade. Follow these tips to ensure your blade stays in optimal condition.
Cleaning: After each use, clean the blade using a mild soap or detergent and warm water. Gently scrub the blade with a soft cloth or brush to remove any dirt, debris, or residue. Avoid using abrasive materials or harsh chemicals that can damage the titanium surface. Rinse the blade thoroughly and dry it completely to prevent moisture buildup.
Drying: Ensure the blade is completely dry before storing it to prevent any moisture-related issues, such as corrosion. Use a clean, dry cloth to wipe the blade thoroughly. Pay special attention to any areas where moisture may accumulate, such as the joint between the blade and the handle.
Lubrication: Applying a thin layer of lubricant, such as mineral oil or silicone-based lubricant, can help protect the blade from corrosion. Apply a small amount of lubricant to a clean cloth and gently rub it onto the blade surface. This extra layer of protection can also help reduce friction and maintain smooth operation.
Storage: Store your titanium blade in a clean, dry environment. Consider using a blade sheath or protective cover to prevent accidental damage and to keep the blade securely stored. Avoid storing the blade in a humid or damp location, as this can promote corrosion. If your blade didn't come with a sheath, you can use a blade guard or wrap the blade in a soft cloth before storing it.
More Titanium Knives