What is S30V Steel?
CPM S30V steel is a powder metallurgy type of stainless steel produced by the US Crucible Industries. S30V steel offers a great balance in terms of toughness, edge retention, and corrosion resistance.
It is often considered premium steel and highly preferred in the making of knives. To note, Crucible Particulate Metallurgy S30V (CPM S30V) and S30V are the same steel.
In recent years, there have been advances to make the best combination of hardest, wear resistance, and corrosion resistance steel and S30V powder steel is a product of that effort.
If you are on the market for a high-end pocket knife, a folding knife made from premium stainless steel, consider CPM S30V varieties. Blades made from this steel have proven to be corrosion-resistant and effective.
Unlike traditionally rotated steels, S30V martensitic stainless steel is made following powder metallurgy. A process that reduces molten alloys to powder. The grains are then firmly pressed together to produce high-quality powdered steel with exceptional toughness and stability.
CPM S30V Steel Composition
Carbon C 1.45%: Increases the edge retention, hardness and tensile strength. It also improves steel resistance to wear, abrasion and corrosion.
Chromium Cr 14.00%: More than 11% of Chromium is what makes "stainless" steel. Formation of Chromium carbide Increases hardness, tensile strength and toughness of the blade.
Molybdenum Mo 2.00%: It improves corrosion resistance and hardness.
Vanadium V 4.00%: Increase wear resistance and toughness, it also improves corrosion resistance. High vanadium content enables formation of Vanadium Carbide giving S30V an edge over other steel that rely on Chromium Carbides in wear resistance.
Nitrogen N 0.20%: Adds Toughness to the blade, acts similar to Carbon in alloys.
Tungsten W 0.40% Improves wear resistance and hardness, mostly added to tool steel.
Manganese Mn 0.50%: Increases Hardness and brittleness.
Silicon Si 1.00%: Increases strength and heat resistance.
Phosphorus P 0.04%: Improves machinability and hardness but is considered an impurity.
Sulfur S 0.03%: Improves machinability but is regarded as an impurity.
CPM S30V Properties
S30V Steel Hardness
Hardness in knives is the strength or ability to resist deformity when used in tough applications.
S30V has a Rockwell Hardness of 58-61 HRC. However, with extra heat treatment s30v high carbon steel can reach 64 HRC. This High hardness makes it harder than most top stainless steel out there.
CPM S30V Steel Edge retention
Due to its hardness, blades made from S30V offer excellent edge retention. Having been made from very uniform molecules of Vanadium, Tungsten Carbon, and Manganese, this blade steel makes knives that retain their sharpness for a long. To eliminate the frustration of sharpening your knives after few cuts, get yourself a piece made from S30V.
CPM S30V Steel Corrosion resistance
Corrosion resistance protects a knife from rusting, especially when exposed to salt, moisture, or acids. CPM S30V contains high levels of Chromium, offering it excellent corrosion resistance. However, just like knives made from other types of steel, CPM steel knives should not be neglected otherwise they will rust.
CPM S30V Steel Wear resistance
Due to the high levels of vanadium and Chromium in its composition, CPM S30V is listed among the top steels with high wear resistance. Blades made from this steel have proven resistant to harm from abrasive and adhesive wear.
Is S30V steel hard to sharpen?
Sharpening S30V steel is not that hard due to its fine grain structure. It is however worth noting that it is not as easy as sharpening steel with lower hardness like Japanese-made AUS 8 steel because of its hardness. The harder the steel, the more challenging it is to sharpen.
To get a razor-sharp edge with a knife made from S30V, you will need abrasives with higher hardness than CPM S30V steel itself. Achieving a defined edge will take you some energy and time because it possesses strong wear resistance.
However, to pay for the time-consuming sharpening, it maintains its sharpness for a long time, so you will not need to go through the stress of sharpening now and then.
CPM S30V Steel Toughness
For steel to give you excellent toughness, you might have to forego hardness. And since S30V steel offers us excellent corrosion resistance and hardness, its toughness is not the best.
Not to say that it is terrible, but there are tougher steels than CPM-S30V on the market as shown on the graph below from crucible industries. However, it will take you many tough applications with a knife made from S30V steel before it starts to chip, crack or break.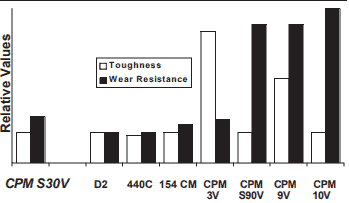 Does S30V steel rust?
S30V steel contains 14% of Chromium, which gives it great corrosion resistance, S30V steel does not rust easily. However, stainless steel is at risk of corrosion if neglected and exposed to corrosion agents. Therefore, if you invest in S30V knives, make sure to wipe them dry after use, and they will remain rust-free for as long as you have them.
Is S30V good knife steel?
Looking at the properties of S30V steel, we can confidently say that S30V steel is excellent steel suitable for knives. Its exceptional hardness, wear resistance, corrosion resistance, and decent toughness make it a good choice for knife makers. You will find popular Spyderco knives and buck knife companies utilizing S30V.
What steel is better than S30V?
With advancements in steel technology, several steels have adopted powder metallurgy production process with more refined alloy compositions beating S30V steel in properties like edge retention, corrosion resistance, and toughness. 
It is difficult to find steels that will beat S30V in all performance aspects. However, MagnaCut steel, M390 steel, 20CV steel, S35VN, and S45VN are closely related and may offer better performance than S30V steel when properly heat treated.
CPM S30V steel comparison
CPM S30V vs S90V
According to Crucible Industries, the main difference between S30V and S90V steel is that S30V steel is a lot easier to machine as compared to S90V in the annealed condition. S90V steel offers better edge retention but S30V steel offers better ease of sharpening, toughness, and corrosion resistance. This makes S30V a more popular choice for a knife blade.
440C vs S30V
According to Crucible Industries, the main difference between S30V steel and 440C steel is that S30V steel offers more toughness as compared to 440C and has better corrosion resistance. The transverse toughness of the CPM-S30V stainless steel is four times higher than that of the 440C blade making it a better choice for bigger blades.
S30V vs D2 Steel
S30V blade is made from premium steel; hence it is more costly than a D2 steel blade. In addition, it is better in corrosion resistance, edge retention, and it's easy to sharpen. They exhibit the same level of toughness. D2 blade is most preferred for an EDC knife by many manufacturers.
S30V vs S35VN
The main difference is that the S35VN  steel blade contains a finer grade, it is easier to machine and polish than S30V. S35VN is also a bit tougher and would be preferred for a fixed blade by a knife maker.
Both S30V steel and S35VN steel are high-quality blade materials and Both attribute their invention to Chris Reeve and Crucible industries, hence sharing almost similar chemical composition. Both also offer almost similar edge retention.
154CM vs S30V
The main difference between S30V and 154CM is that S30V is powder metallurgy-produced steel while 154CM steel is conventionally produced. CPM S30V steel is better steel than 154CM steel in performance, as it was developed by altering and improving the chemical composition of 154CM steel. 
CPM-S30V steel production process results in a more fine-grained structure which offers better edge retention, toughness, and corrosion resistance compared to 154CM steel.
The difference in performance between S30V steel and 154CM steel is not that massive in terms of toughness and corrosion resistance. The most notable difference is in edge retention which is due to the presence of much more Vanadium carbides in the S30V alloy composition.
Sharpening 154CM steel will be much easier as compared to sharpening S30V steel. S30V is harder to sharpen when compared to 154CM due to its improved wear resistance brought about by a higher percentage of Vanadium Carbides.
Both S30V and 154CM are stainless steel, however, the corrosion resistance of S30V steel is improved over 154CM steel due to the addition of molybdenum and nitrogen in its alloy composition.
The toughness of S30V steel is slightly better than that of 154CM steel due to the presence of finer carbides compared to the larger carbides present in 154CM steel.
Both S30V steel and M390 steel are considered high-end steel. They both offer great performance over other kinds of steel in the market. As stated earlier S30V is made by the crucible industry while M390 is made by Bohler in Austria.
In general, M390 steel is more premium steel than S30V stainless steel, It offers better edge retention and toughness. On the other hand, S30V steel is much easier to sharpen than M390 steel. They both offer the same level of corrosion resistance. In terms of price, blades made with M390 steel are more expensive than those made of S30V steel.
CPM S30V stainless steel is more popular steel for knife enthusiasts than the expensive Bohler M390. This is because S30V stainless steel offers a great balance between toughness, edge retention, wear resistance, and corrosion resistance.
See Also: S45VN steel review, an update to S35VN and S30V steel
Conclusion
If you have been looking for a confirmation to buy an S30V knife, the review above should give you a confident go-ahead. S30V Stainless Steel is among the best if not the best Knife Steel.
Most knife manufacturers use this steel to make custom knives geared toward different uses due to its excellent toughness, edge retention, and hardness. You will be pleased with the strength and effectiveness that come with your new purchase.